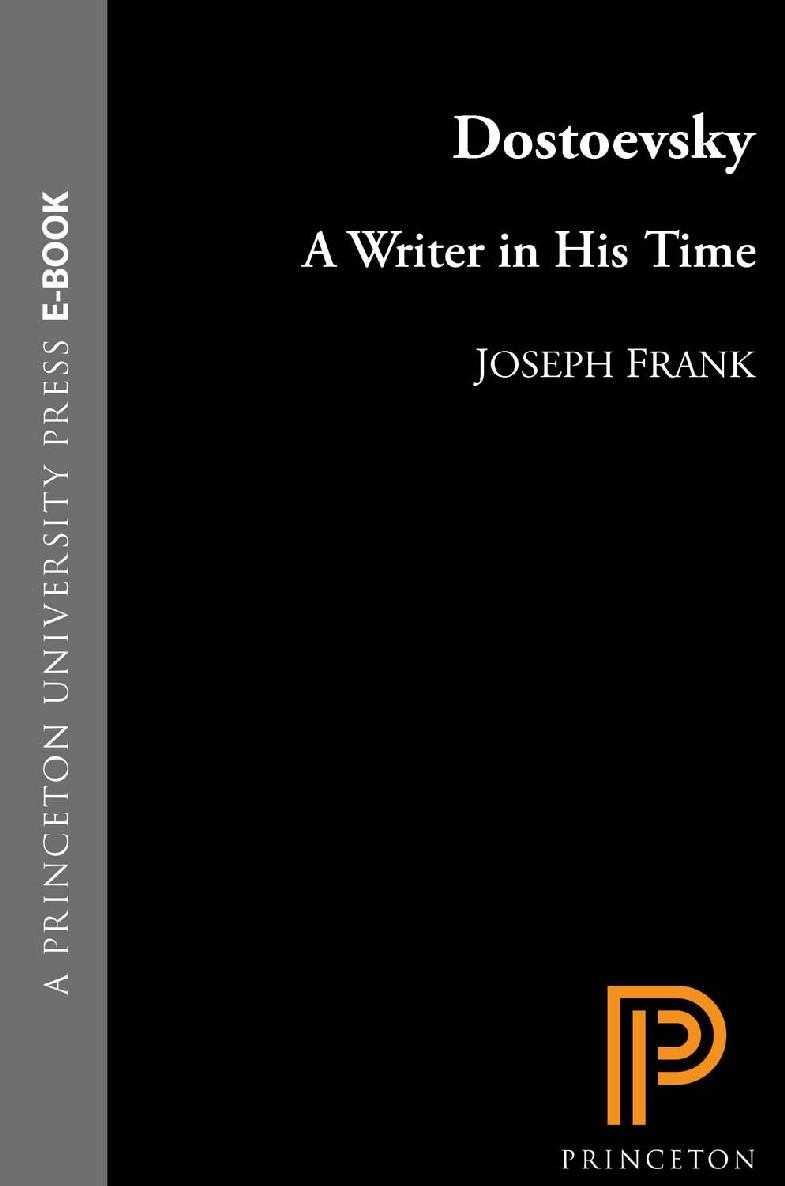 DOSTOEVSKY
2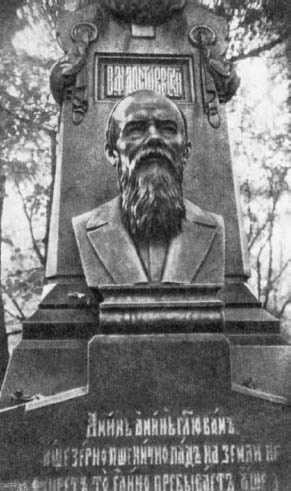 DOSTOEVSKY A Writer in His time
JOSEPH FRANK
edited by
Mary Petrusewicz
3
Copyright © 2010 by Princeton University Press
Published by Princeton University Press, 41 William Street, Princeton, New Jersey 08540
In the United Kingdom: Princeton University Press, 6 Oxford Street, Woodstock,
Oxfordshire OX20 1TW
press.princeton.edu
All Rights Reserved
Second printing, and first paperback printing, 2012
Paperback ISBN 978-0-691-15599-9
The Library of Congress has cataloged the cloth edition of this book as follows
Frank, Joseph, 1918–
Dostoevsky : a writer in his time / Joseph Frank.
p. cm.
Abridged ed. of author's work in 5 v.: Dostoevsky. c1976–2002.
Includes bibliographical references and index.
ISBN 978-0-691-12819-1 (acid-free paper) 1. Dostoyevsky, Fyodor, 1821–1881. 2. Novelists, Russian—
19th century—Biography. 3. Russia—Intellectual life—1801–1917. I. Title.
PG3328.F75 2010
891.73′3—dc22
[B] 2009001418
British Library Cataloging-in-Publication Data is available
This book has been composed in Adobe Garamond
Printed on acid-free paper. ∞
Printed in the United States of America
10 9 8 7 6 5 4 3 2
Frontispiece: The bust of Dostoevsky on his grave
4
Parched with the spirit's thirst, I crossed
An endless desert sunk in gloom,
And a six-winged seraph came
Where the tracks met and I stood lost.
Fingers light as dream he laid
Upon my lids; I opened wide
My eagle eyes, and gazed around.
He laid his fingers on my ears
And they were filled with roaring sound:
I heard the music of the spheres,
The flight of angels through the skies,
The beasts that crept beneath the sea,
The heady uprush of the vine;
And, like a lover kissing me,
He rooted out this tongue of mine
Fluent in lies and vanity;
He tore my fainting lips apart
And, with his right hand steeped in blood,
He armed me with a serpent's dart;
With his bright sword he split my breast;
My heart leapt to him with a bound;
A glowing livid coal he pressed
Into the hollow of the wound.
There in the desert I lay dead.
And God called out to me and said:
"Rise, prophet, rise, and hear, and see,
And let my words be seen and heard
By all who turn aside from me.
And burn them with my fiery word."