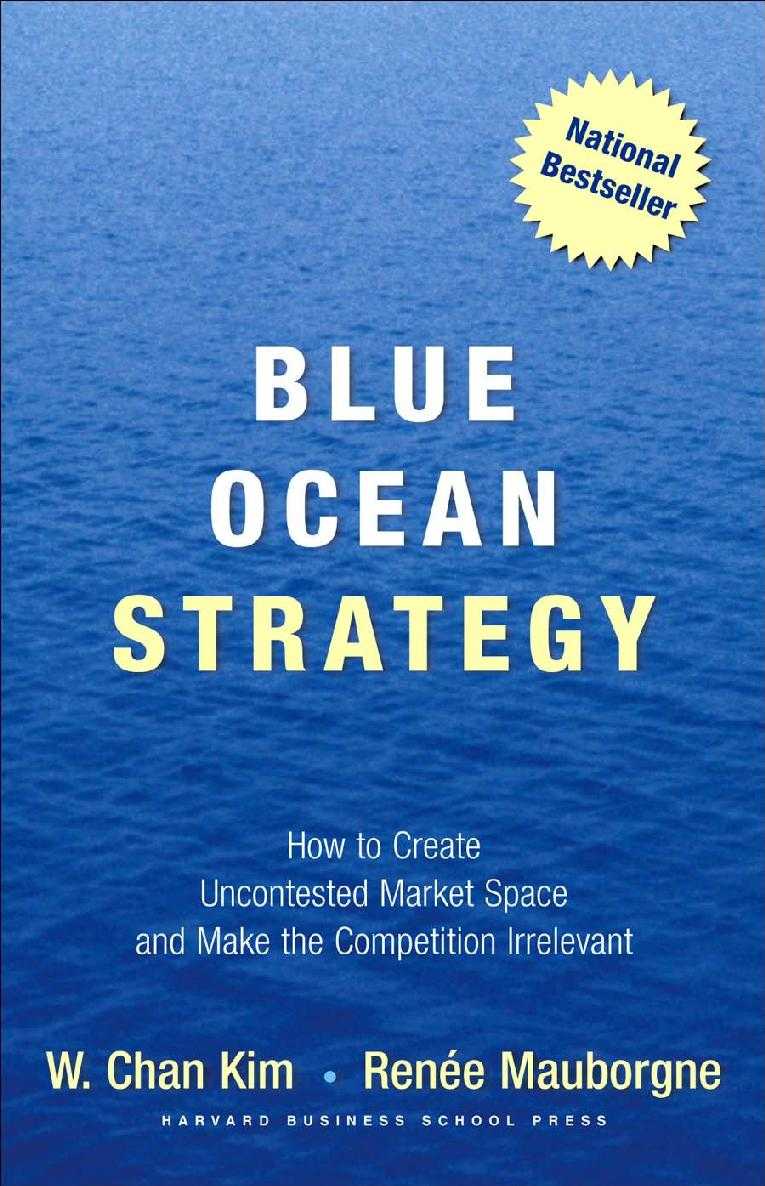 TLFeBOOK
FM-Kim.qxd  10/25/04  10:03 AM  Page i Blue Ocean Strategy
FM-Kim.qxd  10/25/04  10:03 AM  Page ii
FM-Kim.qxd  10/25/04  10:03 AM  Page iii Blue Ocean
Strategy
( ) ( ) ( ) ( ) (
How to Create Uncontested Market Space and
Make the Competition Irrelevant
W. Chan Kim
Renée Mauborgne
H A R V A R D   B U S I N E S S   S C H O O L   P R E S S
B O S T O N ,   M A S S A C H U S E T T S
FM-Kim.qxd  10/25/04  10:03 AM  Page iv Copyright 2005 Harvard Business School Publishing Corporation All rights reserved
Printed in the United States of America
09 08 07 06 05
5 4 3 2 1
No part of this publication may be reproduced, stored in or introduced into a retrieval system, or transmitted, in any form, or by any means (electronic, mechanical, photocopying, recording, or otherwise), without the prior permission of the publisher.
Requests for permission should be directed to permissions@hbsp.harvard.edu, or mailed to Permissions, Harvard Business School Publishing, 60 Harvard Way, Boston, Massachusetts 02163.
Library of Congress Cataloging-in-Publication Data Kim, W. Chan.
Blue ocean strategy: how to create uncontested market space and make the competition irrelevant / W. Chan Kim, Renée Mauborgne.
p.
cm.
Includes bibliographical references and index.
ISBN 1-59139-619-0 (hardcover: alk. paper)
1. New products. 2. Market segmentation. I. Mauborgne, Renée. II. Title.
HF5415.153.K53
2005
658.802—dc22
2004020857
The paper used in this publication meets the requirements of the American National Standard for Permanence of Paper for Publications and Documents in Libraries and Archives Z39.48–1992
FM-Kim.qxd  10/25/04  10:03 AM  Page v To friendship and to our families, 
who make our worlds 
more meaningful
FM-Kim.qxd  10/25/04  10:03 AM  Page vi
FM-Kim.qxd  10/25/04  10:03 AM  Page vii ( ) ( ) ( ) ( )
Contents
Preface
ix
Acknowledgments
xiii
Part One: Blue Ocean Strategy
1
Creating Blue Oceans
3
2
Analytical Tools and Frameworks
23
Part Two: Formulating Blue Ocean Strategy
3
Reconstruct Market Boundaries
47
4
Focus on the Big Picture, Not the Numbers
81
5
Reach Beyond Existing Demand
101
6
Get the Strategic Sequence Right
117
FM-Kim.qxd  10/25/04  10:03 AM  Page viii viii