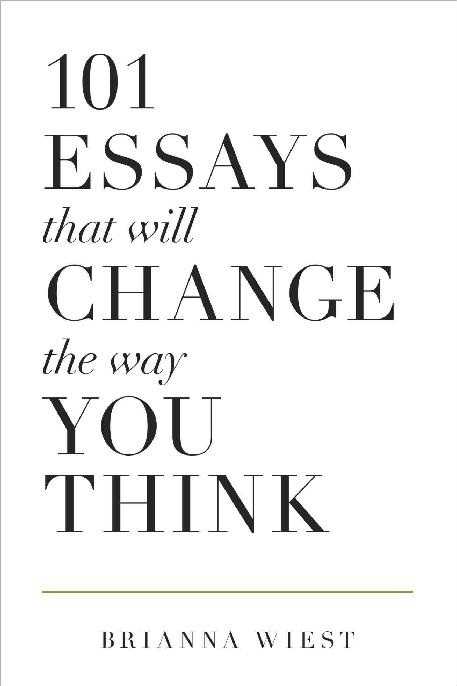 101
ESSAYS
that will
CHANGE
the way
YOU THINK
BRIANNA WIEST

THOUGHT CATALOG BOOKS
Copyright © 2016 by Brianna Wiest All rights reserved.
Published by Thought Catalog Books, a division of The Thought & Expression Co., Williamsburg, Brooklyn.
Art direction and design by KJ Parish.
General information and submissions:
hello@thoughtcatalog.com.
Founded in 2010, Thought Catalog is a website and imprint dedicated to your ideas and stories. We publish fiction and non-fiction from emerging and established writers across all genres.
Printed in Korea by Four Colour Print Group, Louisville, Kentucky.
ISBN: 978-1-945796-06-7
10 9 8 7 6 5 4 3 2 1
101 ESSAYS
that will
CHANGE
the way
YOU THINK
Brianna Wiest
Introduction
In his book Sapiens, Dr. Yuval Noah Harari explains that at one point, there were more than just Homo sapiens roaming the Earth1. In fact, there were likely as many as six different types of humans in existence: Homo sapiens, Homo neanderthalensis, Homo soloensis, Homo erectus, etc.
There's a reason Homo sapiens still exist today and the others didn't continue to evolve: a prefrontal cortex, which we can infer from skeletal structures.
Essentially, we had the ability to think more complexly, thus were able to organize, cultivate, teach, practice, habituate and pass down a world suited for our survival. Because of our capacity to imagine, we were able to build Earth as it is today out of virtually nothing.
In a sense, the notion that thoughts create reality is more than just a nice idea; it's also a fact of evolution. It was because of language and thought that we could create a world within our minds, and ultimately, it is because of language and thought that we have evolved into the society we have today—for better and for worse.
Almost every great master, artist, teacher, innovator, inventor, and generally happy person could attribute some similar understanding to their success. Many of the world's 'best' people understood that to change their lives, they had to change their minds.