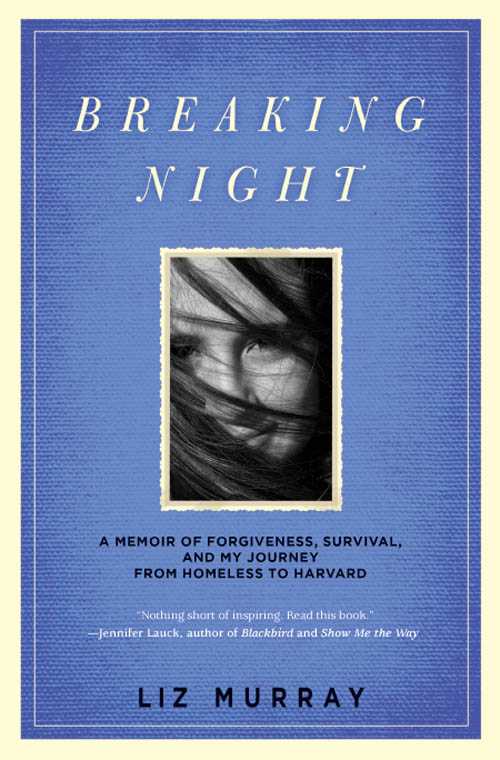 Breaking Night
A MEMOIR OF FORGIVENESS,
SURVIVAL, AND MY JOURNEY FROM
HOMELESS TO HARVARD
LIZ MURRAY
This book is dedicated to three people whose love made it possible.
TO EDWIN FERMIN, for the years behind us, for the years ahead of us, side-by-side.
Thank you for taking care of my father when we needed you. Thank you for sharing your dreams with me and for being my family. Thank you for being my no-matter-what. When I look at all the good in my life, inside all of it, I see you.
TO ARTHUR FLICK, for the fishing trips, the motorcycle rides, the camping and each one of our adventures that I will always cherish. Thank you for being my Guardian Angel and my heart's compass. You were right, Arthur, you do get to choose your family.
TO ROBIN DIANE LYNN—a Trusting, Powerful and Giving woman. Robin, you are a beautiful soul and the embodiment of contribution. This world was blessed to have you in it. Because of you, so many of us are blessed still. Thank you for showing me what it looks like to stand in a commitment, come what may.
"Don't let what you cannot do interfere with what you can do."
—COACH JOHN WOODEN
Those who wish to sing always find a
song.
—SWEDISH PROVERB
"Breaking Night"
URBAN SLANG FOR:
staying up through the night,
until the sun rises.
Contents
Epigraph
Prologue
Chapter 1 - University Avenue
Chapter 2 - Middle of Everything
Chapter 3 - Tsunami Weather
A Personal Invitation from Liz Murray